February 21, 2017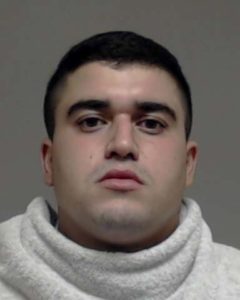 (McKINNEY, Texas) – Ali L. Ghanbari, 24, of Plano, who was extradited from Mexico to stand trial in Texas, was sentenced to 27 years for Aggravated Robbery, announced Collin County District Attorney Greg Willis.
On November 21, 2012, Ghanbari recruited two other individuals to commit a robbery at an apartment complex near Custer and 15th Street in Plano, Texas. The intended victim had previously purchased marijuana from Ghanbari on four occasions, but no longer wanted Ghanbari's business.  Ghanbari planned the robbery in retaliation and supplied the firearms used in the offense.
The first suspect that entered the apartment was shot and killed by a civilian in self-defense. Ghanbari fled the scene but left his cell phone in the deceased's car, which was later turned over to Plano Police and the assigned Detectives Daniel Caballero and Brian Pfahning.  During their investigation, those same detectives uncovered text messages planning the crime between Ghanbari and the deceased.  Ghanbari was arrested in January 2013 for his role in the offense but got out of jail 21 days later after posting a $150,000 bond.
In October 2013, Ghanbari was required to appear for a court hearing due to a subsequent arrest for possession of marijuana, a violation of his bond.  Ghanbari left the courthouse before the hearing began and fled to Mexico to avoid prosecution.  In November 2015, he was extradited back to Texas with the help of the U.S. Marshals Service Fugitive Task Force, assisted by District Attorney Investigator Jared Clark.
On Friday, the jury convicted Ghanbari of Aggravated Robbery with a Deadly Weapon and sentenced Ghanbari to 27 years in prison. Judge Angela Tucker presided over the case.
Assistant Criminal District Attorneys Calli Bailey and Doug Millican prosecuted the case, aided by District Attorney Investigator Laurie Gibbs.
#####