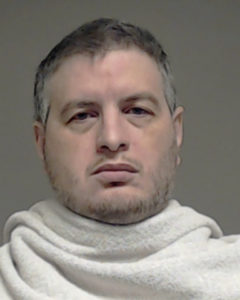 May 11, 2017
(McKinney, Texas) – Kenneth Amyx, 46, of Garland, was found guilty of Murder and sentenced to life in prison, announced Collin County District Attorney Greg Willis.
On May 29, 2016, a female victim known to Amyx was found dead in her apartment in Plano, Texas.  Plano Police received multiple welfare concern calls after photos showing the victim bleeding on her floor were sent to family members and posted to Facebook.  Upon making entry into the apartment, Plano officers found Amyx lying on top of the victim in the master bedroom.  She died at the scene from multiple lacerations to her body. Amyx was treated for superficial wounds.  During an interview, Amyx confessed to causing the victim's fatal injuries and posting the photos on Facebook as part of a claimed suicide pact.
But the evidence did not support Amyx's claim that the victim had agreed to a suicide pact. Judge Scott Becker found Amyx guilty of murder. During punishment, the judge heard that Amyx was wanted in Rockwall County for continuous sexual abuse of a female child relative at the time of the murder.  Amyx testified that he did not regret killing the victim and also admitted to multiple acts of sexual abuse of the child.  The judge assessed a life sentence.
The case was investigated by Plano Police Department, including Detectives Paul Martinez, Jonathan Hay, and Aaron Benzick.  Assistant Criminal District Attorneys Doug Millican and Calli Bailey prosecuted the case, aided by DA Investigator Laurie Gibbs.
####